Save time, book online with Nannies on Call!
Please enter your email address to continue.
If you would prefer to book by phone please contact us here.
Have you heard about our nifty NannyCard? Each time you hop online the NannyCard tracks your new booking -- and gets you one heart (stamp) closer to a free Agency Fee!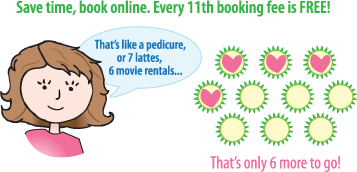 * Please note: NannyCard only tracks self-serve bookings completed through our online booking system. To receive your 11th booking free, no changes can be made to the bookings.Email and phone requests do not apply. Agency Fee Reward (11th booking) will automatically be credited to your Nannies on Call file after your 10th booking. Reward credit is valid for one year.